Call Of Duty 4 : Moderen Warfare Review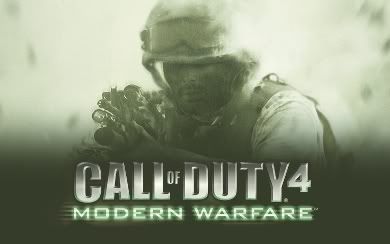 Till now the Call of Duty series has always focused on World War events. But in the 4th installment of the games, things are different. As the name "Modern Warfare" suggests, the battles are more modern and takes place in middle east where you will be saving hostages, destroying missiles silos etc. The World War is history now and the focus is more on international affairs and conflicts. I got the chance to try out the demo and the experience was mind blowing.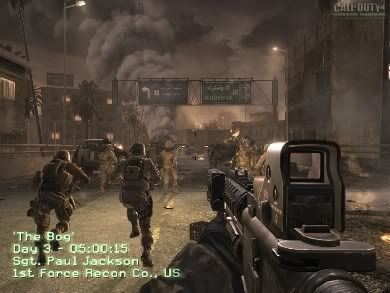 The demo lets you try out single level which takes place in middle east. The action packed stuff in the game along with a compelling story line will blow you of your feet. As you move from one point to another completing a variety of objectives, you will encounter hordes of enemy soldiers with exceptional AI. They will throw grenades at you and will change there stance accorind to your movement. They will hide from you, leave there position if you throw a grenade at them. You will never stay in one place for a long time, moving from once place to another completing objectives.
The graphics are visually stunning . The Game well at high settings in my Geforce 8600 GT. The weapons in the game are beautifully modeled and each have there own downs an up. You get to choose a variety of weapons such as M-16 , AK 47 and you can pick up guns from enemies which you have killed along the way. The night vision is absolutely cool and also shows friendly laser sights which very much reminds of a Mission Impossible movie. You will also use a computer based anti tank Javelin missile system to take out enemy tanks. Such immersive gameplay will keep you busy throughout.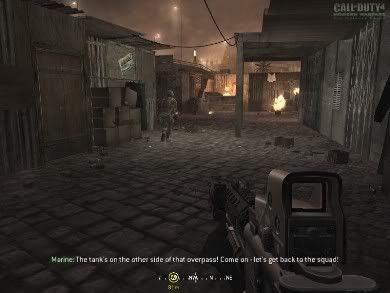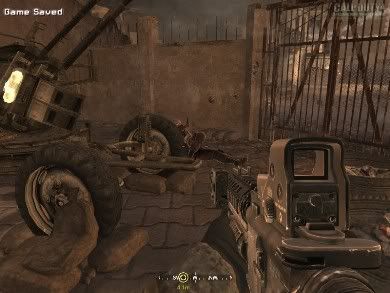 The COD 4 is available on PC , XBOX 360 and PS3. The game will be available in North America on November 5 and in Europe on November 9. The game also has a multiplayer feature which i was unable to try. I rate it a 5/5 and must buy for people who love first person shooters. Anyone who has tried out the game is free to share there experience with me.