Need For Speed ProStreet Demo Preview
The Need For Speed ProStreet is already out on stores now. EA released a single player demo of the game a few days back giving the gamers some taste of action and speed. I tried out the demo yesterday and to be honest, i was a bit letdown by the demo. I am not saying that the game is bad but it was not what i expected it to be.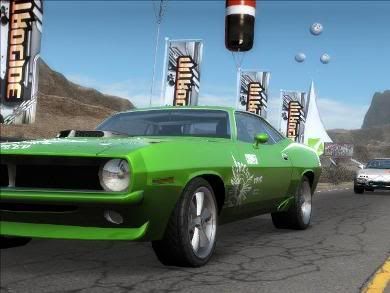 For starters, there is no free roaming in the game anymore. The gameplay has shifted from arcade style to a more realistic one. All the races now take place in the race tracks. The handling of the cars are also more realistic, though realism is a good thing as people would say but in this case i think it takes the fun away. Now the control of the car seems more difficult and heavier and is similar to other racing games such as Test Drive, Juiced, Project Gotham Racing etc. This approach is very different from what we have expected after Most Wanted and Carbon.
One thing that this game really does well is to satisfy your desire for speed and i mean it. Just press the Nitro button and see the car reach the speed of more than 200 Km/hr in an instance. But now you have to shoulder more responsibility because if your car crashes at a high speed, you will see a nice slow motion video of your car getting totalled meaning race over. The car damages can now be seen and you will see the hoods flying out of your crash when you bump into an opponent. The graphics of the game look very impressive with a much improved damage mechanics.
The demo features two races: Speed Challenge & Grip Challenge. The speed challenge is similar to a speed trap which we saw in earlier versions but this time you have to be extra careful as your car can get totalled. Now the amount of Nitro which you can use is limited so you have to use that with extra care. The Grip challenge is similar to a circuit race and there is nothing new about it too. The full game will feature a new Autosculpting option but the didnt allow us to modify our rides.
The demo will sure leave a lot of people disappointed as they will miss the previous arcade style gameplay and the free roaming mode including police chases. However those who prefer a more realistic style will like it. In the end it is not that bad but it is for you to decide whether you want to buy it or not. Lets hope the full version brings some quality content to satisfy the fun factor.
The game was run on machine having Intel P4 2.8Ghz HT , 1 GB DDR RAM, Geforce 8600 GT.