VisitorVille: View your website traffic in animated manner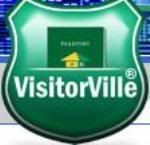 When it comes to my blog, i guess i am a little bit addicted to stats. I like checking them everyday to know how many people visited my site, where do they came from, what did they view etc etc. I use services such as Analytics, Awstats to check my stats but recently i stumbled across this great tool called VisitorVille. VisitorVille is a web analytics tool but the difference is, it makes your website come alive. You can view your visitors in an animated fashion. Overall i must say it is a fascinating piece of software. Now lets go into details
After the installation, you will have to register with VisitorVille by providing your registration data. You can try out this software free for 3 days or can subscribe to the monthly package. More the no of your visitors, more will be the price, around 90$ per month for a daily traffic of 5000 unique visitors. Although the price is high, it feels justified after having a look at the software. After registration, you can create a "map" of your website by providing the site you want to track. You can start with the homepage and the program will index the other pages automatically or you can also track specific pages. You will be given a code which you will have to insert in your site template.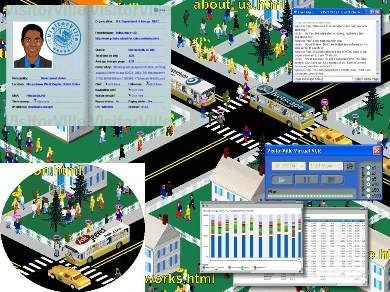 The program will treat your website as a city with your pages appearing as buildings. The more the pages you index, more will be the buildings. Visitors to your site will be in the form of small people. Whenever a new visitor comes to your site through search engine, you will see them coming in a bus named "Google", "MSN" or depending on the search engine. The person will arrive at one of your buildings and will enter inside. The more the people viewing a page, the building will grow up and will be brightly lit. Whenever you see a person calling a taxi, that means he has clicked on a different link and a taxi will take him to a diffrent building.
You can also know more about your visitor by clicking on him and viewing his passport. This will tell you information about his IP address, location, where he came from, the search terms he used to arrive in your city etc. You can also track this person by following him or you can also start a chat with him in realtime. Thats right, that too without any special software (i have not tried it yet). You can also make people from certain IPs as VIPs and you will see them arriving in your website in a helicopter and moving around in Limousine. Apart from this, the program will also generate a dozen professional reports for your site which will help you analyze your site in greater details.
Now we have several web analytics software but this one is diffrent and unique. It shows your traffic in realtime, reminds you of "The sims" and "Sim City" games. I would have loved to try this more but i guess i cant afford it. Have you ever tried something similar to this, if so then share your experience.
I was not able to blog recently due to my exams.