How to make Windows XP look like Windows Vista
Even though Windows Vista didnt reach the same height of popularity like Windows XP, its Aero theme and interface is worth checking out. Now to make Windows XP look and feel similar to Windows Vista, we are going to make use of three applications
1) Vista Transformation Pack 8
This thing needs no introduction. You can make your Windows XP look like Vista just by installing this applications. The new version 8 was released recently and it includes several new enhancements such as
Boot Screen
Logon Screen
Progress Dialogs
Sound Scheme
Windows Media Player skins
This is the first time i have tried Vista Transformation pack and it does the job well. You can see my screenshot to see the effect your self.
 
It didnt slow down the system but i have a high configuration so i cant say how it will perform on lower end machines. However one thing which i noticed when i tried installing it on my older pc is that it gave an error and the installation did not continue. Has anyone else faced this problem ? Overall, it will make your GUI very much similar to Vista even with a sidebar.
2)Glass2k
For those of you who dont want to install the whole pack but want the same transparency effect like that Vista, then Glass2k is the thing for you. It is a small program that can be used in WindowsXP to make any windows transparent. Just click on the window and press(Control + Shift + [0-9]) or right click on the window to make it transparent. This can make most of your windows transparent even Word , WMP , games etc. It can even make the taskbar transparent. The best thing is that is is 54Kb in size. You can check its effect in the screen shot shown below.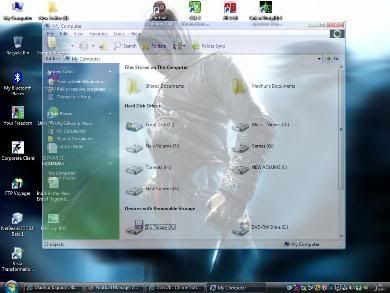 3)Vista Drive icons
Thanks to Shivaranjan for informing me about this cool application. Windows Vista also displays the amount of space in your hard drive graphically. To add this functionality to Windows XP , you can use a utility called Vista Drive icons.
 

Just install this and you will get the same functionality in Windows XP drive icons
Together you can also use these 3 applications to make your XP seem much more like Vista but it looks only. Are there any similar applications which you have used? Do share your thoughts with me.