Get Start Menu on Windows 8 with Start Menu Reviver
The lack of Start Menu in Windows 8 is one things that many users hate. With most of being used to opening/pinning programs on the start menu, it is quite difficult to open then by going to the Metro interface and finding the desired program. Start Menu Reviver is a customizable start menu for Windows 8 that makes it easier to launch your programs. Though it is not quite the same as the older start menu, but it is much more intuitive and highly customizable.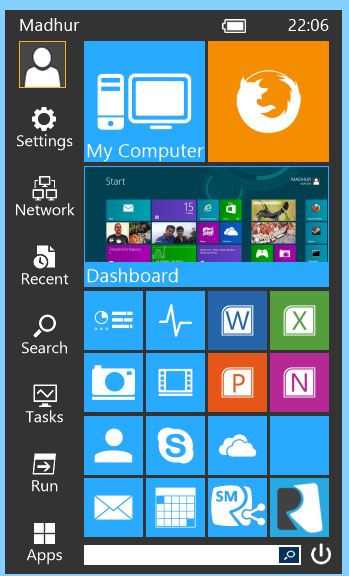 After the installation, it can be accessed by pressing the Windows key or by clicking the windows icon. The menu will display a list of tiles which can be used to open the applications. The program supports up to 32 tiles. You can add/edit tiles that you want and they can easily be accessed on a button click. While adding the tiles, you can even select the icon that you want to display from a predefined collection or you can choose your own. It is even touch friendly so if you have a touch screen device, you can easily move the tiles from one point to another.
Not only applications, you can even add your favourite websites as tiles so that they are easily accessible. On the left hand side, you will notice a list of icons which can be used to access common features like Search, Settings, Run, Recent, Tasks etc. It even has its very own Search bar which can be used to search for any application quickly.
It has an icon which can be used to go back to the Metro interface. You can even use it to launch Metro apps apart from Desktop apps. In its extended state, you can filter between the Desktop app or modern apps and quickly launch them from there. It is highly customizable and you can select the Start Menu button from a lot of different styles.
You can even use it with Windows 7 if you are bored with the default start menu. The program is a freeware.